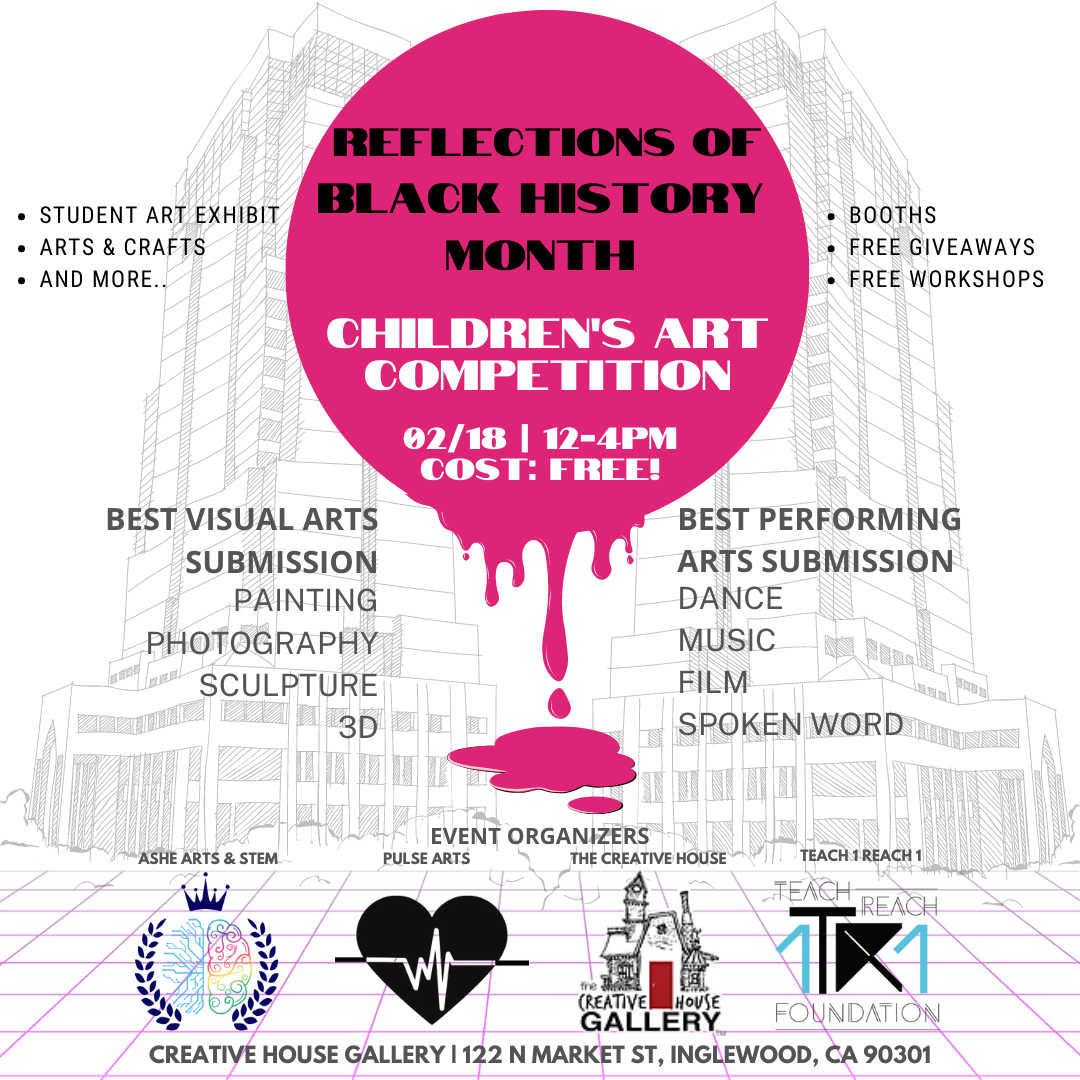 2023 Art Competition
Black History Month Student Art Show brings talent from industry professionals and students (K-12), together!
FOR IMMEDIATE RELEASE
December 3, 2022
2023 Art Competition: ASHE Arts & STEM has teamed with Pulse Arts, Teach One Reach One and The Creative House to create a juried K-12 Student Art Exhibition & reception for Black History Month. As funding for art in schools has been decimated over the years, these 4 organizations are working to bridge the gap and raise needed funding for programs that reach BIPOC youth in inner city public schools, continuation schools and foster care youth. A well rounded education requires access to art training. We are doing our part to make it happen.
Categories for this event include:. Painting, Sculpture, photography and, in our digital categories: film, dance, music, and poetry/spoken word. Jurists include professionals in each genre of art listed. Application for the Student Art Exhibition can be found here: https://bit.ly/3H1IBmC. Student K-12 are invited to apply!
This 2-day event will take place at:
The Creative House (122 N. Market St., Inglewood)
Day 1: February 17 @7:00pm – 10:00pm
"Ignite the Night Art Ball" an evening reception where awards will be announced and guests will enjoy art by featured artist, Sam Pace (as well as student art), entertainment by C.Holmes Trio, hors d'oeuvres, beer & wine.
Tickets for evening reception are $30 (thru Feb 4), $45 (thru Feb 17) $60 (at the door)
Tickets can be purchased here: https://bit.ly/ignite-the-night-art-ball
Day 2: February 18, 12:00pm – 4:00pm
Student Art Competition & Exhibition for students K-12 with FREE art workshops. Enjoy viewing student art, including digital performing art, and participate in FREE workshops, including: sculpture, music making, dance and more!
Free Entry
About Ashe Arts & STEM:
We work to bridge the gap between representation and access to education for BIPOC students pursuing the ARTS and STEM fields through scholarships, and mentorships helping to facilitate the transition from student to professional. Ashe Arts & STEM is a registered, tax-exempt public charity under section 501(c)(3) of the IRS. Their FEIN is 82-4537269. https://bit.ly/3B5g4Jn
Pulse Arts is committed to empowering youth by providing creative opportunities to address social issues and ignite community change through the arts. Pulse Arts openly embraces the rich tapestry of people that make California unique. With respect to racial equity, our hiring practices, policies and programming reflect the unique diversity of our state. We believe that equity means listening and responding to the specific needs of the people and communities we serve. Pulse Arts is a registered, tax-exempt public charity under section 501(c)(3) of the IRS. Their FEIN is 83-1467603. https://bit.ly/3Hnk6kj
Teach 1 Reach 1 Foundation is a non-profit organization that supports, inspires, and empowers people to strengthen and create better life skills and opportunities by teaching and reaching out to others. They do this by helping people strive for success through education. Teach 1 Reach 1 Foundation's vision is for people to Teach, Reach, and Empower others embracing their mission. Teach 1 Reach 1 is a registered, tax-exempt public charity under section 501(c)(3) of the IRS. Their FEIN is 30-0595467. https://bit.ly/3EXhIxI
The Creative House Gallery aims to play a sustainable role in revitalizing the community via a collective of artists, educators, scholars and leaders who are dedicated to the enlightenment and healing of the community through art by utilization of enriched and diverse programming, workshops and seminars based on art and individual empowerment. Their FEIN is 38-4007442. Pulse Arts is a registered, tax-exempt public charity under section 501(c)(3) of the IRS. https://bit.ly/3HnkNKr
Media Contact
For additional information:
Crystal Jones
Phone: 818-863-6035
Email: aasa-events@theasheacademy.org